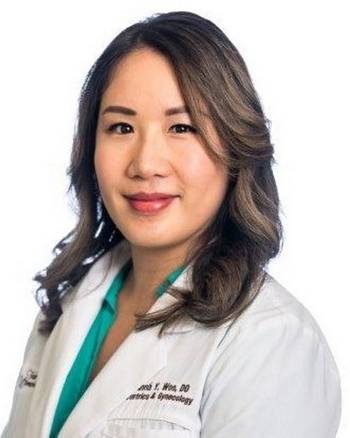 Joanna Y. Woo, DO, FACOG
Ob/Gyn
"My passion is to provide high-quality, comprehensive, and culturally sensitive care for women across their lifespan. I enjoy Ob/Gyn because it is a unique privilege to care for women during some of their most important life moments. I strive to educate and empower women to make health care decisions that optimize their well being."
"Being an osteopathic physician, I believe the mind, body, and spirit are all connected. My practice philosophy is a patient-centered, holistic approach that takes into account all aspects of a person's health as well as their emotional and spiritual needs."
Medical License: California, since 2015
Board-Certified: American Board of Obstetrics and Gynecology, since 2018
Email Dr. Woo: drwoo@fowh.com
Education
Private Practice Ob/Gyn: since 2016 (with Fair Oaks Women's Health)
Medical Staff: Huntington Hospital (HH), Huntington Ambulatory Surgery Center (HASC)
Diplomate: National Board of Osteopathic Medical Examiners, 2012
Diplomate: American Board of Ob/Gyn (ABOG) 2018
Internship and Residency: Sparrow Hospital, Michigan State University, Lansing, MI 2012-2016
Osteopathic Medical School: Midwestern University, Arizona College of Osteopathic Medicine, 2008-2012
Undergraduate: University of Southern California (USC), 2003-2007
Memberships: American Congress of Obstetricians and Gynecologists (ACOG), American College of Osteopathic Obstetricians and Gynecologists (ACOOG), American Medical Association (AMA), American Osteopathic Association (AOA)
Languages: fluent in English, Mandarin Chinese, Taiwanese, and partially fluent in Spanish
Special Interests: Adolescent Gynecology, High-Risk Obstetrics, Minimally Invasive Surgery, Robotic Surgery, Incontinence Surgery
Publications: Woo J, Tate L, Roth S, Eke AC. Silent Spontaneous Uterine Rupture at 36 Weeks of Gestation. Case Reports Obstet Gynecol. Aug 2015, Article ID 596826.
Accomplishments
Ob/Gyn Chief Resident 2015-2016
President American Medical Students Association 2006-2007
Hobbies
hiking
baking
yoga
volunteering at animal shelters