Coronavirus Updates
as of September 24, 2020
At Fair Oaks Women's Health, we have implemented policies to reduce the number of medical appointments, to minimize people in our waiting room and to ensure that the office is clean, hygienic and safe for our patients and staff. Please read below to see what the current policies are.
Restrictions and safety practices are in effect. All patients (and staff) are expected to wear a mask at all times while in the office. We also have a written COVID-19 screening form at the front door. See below.
PLEASE NOTE SOME MODIFICATIONS TO OUR TEXT MESSAGES
Thank you for your understanding and cooperation.
COVID-19 Screening Questions
A form will be provided. If you answer YES to any of the questions, a provider will determine if you can be seen or if your appointment can be safely delayed until you get tested for COVID-19.
CLICK HERE TO PRINT THIS PAGE AND FILL OUT AHEAD OF TIME
Within the last 10 days have you been diagnosed with COVID-19, had a positive COVID test, or are waiting for a COVID test result?
Do you live in the same household with or have you had close contact with someone in the past 14 days who has positive COVID or possible COVID?
Have you or anyone in your household traveled outside of California or to another country in the past 21 days?
Have you started to have any of the symptoms below today or within the past 48 hours?
Fever, Chills, Sweats or Shivering
Cough
Shortness of Breath
Feeling Unusually Weak
Loss of Taste or Smell
Sore Throat
Runny or congested nose
Diarrhea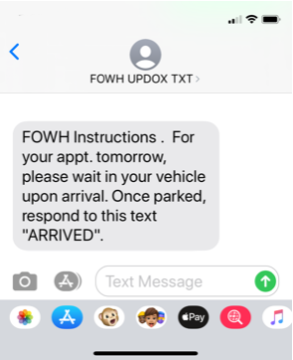 First Text
Before your appt. you will receive this text message. When you arrive for your appt. and park, please reply to the text with the word "ARRIVED".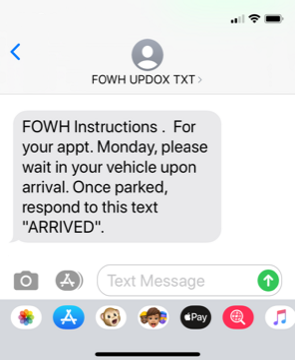 First Text (Monday Appt)
For a Monday appt. this text message will be sent the Friday before. When you arrive for your appt. and park, please reply to the text with the word "ARRIVED".
Second Text
When we see the ARRIVED text we will respond with this: "Please head up to our office after "READY" text is received. There may still be a brief wait for the Provider. Thank you." Do not come to the office just yet.
READY TEXT - Come on Up
READY TEXT: When you get this text, please make your way to the waiting room. There may still be a brief wait for the Provider. Thank you for helping us minimize the number of people in our waiting room.
HH Doula Policy
Certified birth doulas are now able to attend births with the following guidelines and restrictions:
At least 48 hours or more before delivery, patients must send an e-mail to the L&D Safety Nurse, Amy Pendleton. In this e-mail please provide:
Patient Legal name and Date of Birth
Patient Due Date
Primary OB Doctor
Doula Name
Copy of the Doula Certification
The doula will be screened on arrival and every 12 hours. The doula remains in the patient room at all times. The doula who agrees to attend the birth is the only one approved -- substitutes are not allowed. Doulas must limit items they bring to the birth to essentials only. If the OB patient tests positive for COVID, the doula will not be allowed to attend the birth.
The doula will wear a mask at all times (provided by the hospital) and can bring her own goggles or face shield. Doulas are to leave the hospital once the patient transfers to Maternity. If the patient goes to C/S, the patient can ask her doula to be with her but only one birth partner per C/S is allowed.
Neither the doula nor the birth partner are being tested for COVID at this time. They are screened upon entry into the hospital. If you believe that there is a chance that either of these people might have early COVID or recent exposure to someone COVID positive, please inform the hospital staff.
If you have further questions, please contact the Family Birth Center Manager Amy Pendleton by email at amy.pendleton@huntingtonhospital.com