Coronavirus Updates
as of July 25, 2020
At Fair Oaks Women's Health, we have implemented policies to reduce the number of medical appointments, to minimize people in our waiting room and to ensure that the office is clean, hygienic and safe for our patients and staff. Please read below to see what the current policies are.
Restrictions and safety practices are in effect. All patients (and staff) are expected to wear a mask at all times while in the office. We have a new written COVID-19 screening form at the front door. See below.
Thank you for your understanding and cooperation.
**See our article on Testing for Coronavirus**
COVID-19 Screening Questions
If you answer YES to any of the questions, a provider will determine if you can be seen or if your appointment can be safely delayed until you get tested for COVID-19.
CLICK HERE TO PRINT THIS PAGE AND FILL OUT AHEAD OF TIME
Within the last 10 days have you been diagnosed with COVID-19, had a positive COVID test, or are waiting for a COVID test result?
Do you live in the same household with or have you had close contact with someone in the past 14 days who has positive COVID or possible COVID?
Have you or anyone in your household traveled outside of California or to another country in the past 21 days?
Have you started to have any of the symptoms below today or within the past 48 hours?
Fever, Chills, Sweats or Shivering
Cough
Shortness of Breath
Feeling Unusually Weak
Loss of Taste or Smell
Sore Throat
Runny or congested nose
Diarrhea
Governor Orders Masks to be worn
from L.A. Times: "Gov. Gavin Newsom on Thursday (June 18, 2020) ordered all Californians to wear face coverings while in public or high-risk settings, including when shopping, taking public transit or seeking medical care, after growing concerns that an increase in coronavirus cases has been caused by residents failing to voluntarily take that precaution.
Under state law, residents who violate the new requirement could be charged with a misdemeanor and potentially face a financial penalty, according to a representative for the Newsom administration. However, officials have shied away from enforcing other statewide coronavirus mandates with similar actions, choosing instead to encourage compliance and educate residents about the benefits of safeguards against spread of the virus."
Click here for the Governor's Order
Exceptions to this order include (summarized):
Persons age two years or under.
Persons with a medical condition, mental health condition, or disability that prevents wearing a face covering. Persons exempted from wearing a face covering due to a medical condition who have regular contact with others should wear a non-restrictive alternative, such as a face shield with a drape on the bottom edge, as long as their condition permits it.
Persons who are hearing impaired where the ability to see the mouth is essential for communication.
Persons for whom wearing a face covering would create a risk to the person based on workplace safety guidelines.
Persons who are obtaining a service involving the nose or face for which temporary removal of the face covering is necessary to perform the service.
Persons who are seated at a restaurant or other establishment that offers food or beverage service, while they are eating or drinking, provided that they are able to maintain a distance of at least six feet away from persons who are not members of the same household or residence.
Persons who are engaged in outdoor work or recreation when alone or with household members, and when they are able to maintain a distance of at least six feet from others.
Persons who are incarcerated.
Editorial: Why do some people refuse to wear masks?
There are many reasons. A common one is that we should have the freedom to decide this for ourselves and the government should not be able to force this on us. Compare this to a discussion about stopping at red lights. "The government should not be able to force me to stop at a red light. I should have the freedom to drive through a red light if I want to."
This makes no sense. Why? Because of the risk -- the danger -- that an accident might occur. The driver might get hurt or their family (if they are in the car) or others, if there is a collision. Why can't we apply this logic to wearing a mask? Failure to wear one can hurt the person being exposed, can hurt their own family if they get sick and bring the virus home, or can hurt others.
PLEASE WEAR A MASK. YOU WILL SAVE LIVES. PERHAPS YOUR OWN.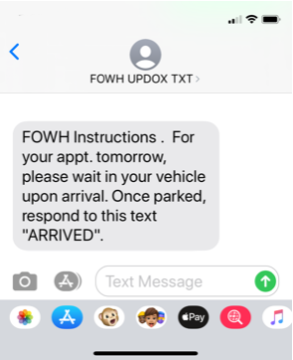 The day before your appt. you will receive this text message. When you arrive for your appt. and park, reply to the text with the word "ARRIVED".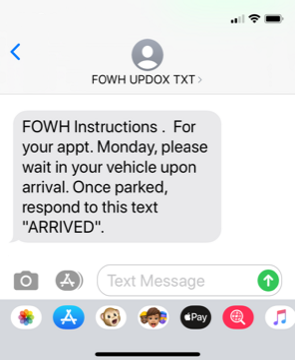 For a Monday appt. this text message will be sent the Friday before. When you arrive for your appt. and park, reply to the text with the word "ARRIVED".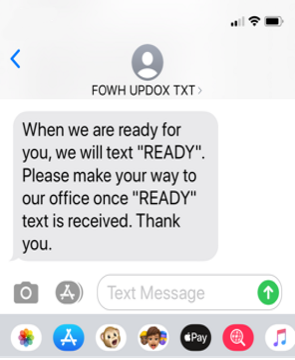 We will send you this final text which asks you to wait in your car (or nearby the office) until we send "READY". When we send "READY", please make your way to the office for your appt.