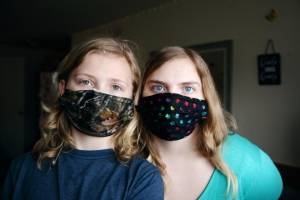 How to Guide Your Child Through the Coronavirus Pandemic
By Jenna Sherman
The coronavirus pandemic has been hard on countless American households. While the changes in routine have certainly been difficult for parents, many children, in particular, are having a hard time navigating school closures, limited social exposure, cancelled events, and other aspects of the pandemic. And with so many uncertainties of what the upcoming school year will look like, your child might need some guidance. To help you help them, here are some tips and information to consider in these strange times.
Reiterate Essential Guidelines
Let's start with some basic safety guidelines that you can go over with your child.
Help Them Get Back Into a School Routine
You may not know exactly what your child's school year will entail, but here are some general tips for getting them prepared.
Take Care of Yourself
While your kids come first, it's important not to forget about yourself in the process. The better your health and wellbeing, the better parent you can be.
Be sure to check in with your doctors at Fair Oaks Women's Health regularly.
Intentionally practice self-care on a daily basis, including eating well, sleeping enough, exercising, and engaging in stress-reducing activities.
Finally, consider hiring a cleaning service to deep clean your home, which can reduce your stress and promote health in your household.
These are strange, difficult times indeed. So, ensure that your child is prepared now and for the upcoming school year by going over basic safety guidelines for going out in public. Also, take steps to transition them into their school routine, and remember to care for your own health and wellbeing along the way. Lastly, try to keep a positive outlook and instill the same in your child.
"Jenna Sherman created Parent-Leaders to be all about what parents can do to make sure their children grow up to be strong, independent, successful adults. By providing a collection of valuable, up-to-date, authoritative resources, she hopes to help other parents acquire the skills they need to raise future leaders. Jenna is mom to three children -- two girls and a boy."