**COVID-19 Vaccine APPOINTMENTS ARE AVAILABLE.
Vaccine billing error
We have learned that our billing service has sent incorrect statements to some patients.
The vaccine is free of cost to us and to you, and we are not supposed to bill anyone for the cost of the vaccine. The only thing we are billing for is the vaccine administration fee, which is $40 per dose, and we submit the bill to your insurance. There is NO out-of-pocket cost to you. See below.
click here for CDC guidelines on this issue.
If you received a COVID19 vaccine from us, you should see the following codes on your statements:
Code 0011A which is the administration fee for the first dose of Moderna vaccine and
Code 0012A which is the administration fee for the second dose of Moderna vaccine
New corrected statements are being sent. Thank you for your understanding, and we are sorry for this error. See below for CDC comments. For any questions, call Mercedes at our office: 626-696-2728.
The federal government is providing the vaccine free of charge to all people living in the United States, regardless of their immigration or health insurance status.
COVID-19 vaccination providers cannot:
Charge you for the vaccine
Charge you directly for any administration fees, copays, or coinsurance
Deny vaccination to anyone who does not have health insurance coverage, is underinsured, or is out of network
Charge an office visit or other fee to the recipient if the only service provided is a COVID-19 vaccination
Require additional services in order for a person to receive a COVID-19 vaccine; however, additional healthcare services can be provided at the same time and billed as appropriate
COVID-19 vaccination providers can seek appropriate reimbursement from the recipient's plan or program (e.g., private health insurance, Medicare, Medicaid) for a vaccine administration fee (which we are doing).
However, providers cannot charge the vaccine recipient the balance of the bill. There is NO out-of-pocket cost to the patient.
Doctor's Note: OK to receive vaccine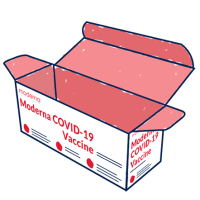 CAIR Immunization Notices
Our practice is required to inform all patients that their vaccine data is entered into a California State database called CAIR (Calif. Immunization Registry).
Here are disclosure documents for your information: